New Solar MD Product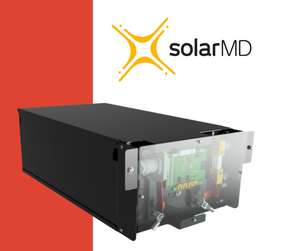 Solar MD was founded in the summer of 2014. With a vision of affordable clean energy. Their goal is to develop and manufacture battery systems that store electricity from renewable energy sources as efficiently as possible. However, since trade and industry have the highest energy requirements in most countries, the start-up from the outset concentrated on high-capacity storage facilities.​
Today Solar MD produces its residential and commercial storage solutions in series and delivers them all over Africa.

- The biggest local manufacturer of lithium batteries in South Africa
- Shipped more than 150 MWh in 2021
- Moved towards a more compact and dense battery cell design
- Introducing a new range of low voltage and high voltage batteries
Products from the new battery range will be introduced in the coming months, however, we are excited to already introduced the following Solar MD 14.3kWh rack mount!
Solar MD 14.3kWh rack mount
- SS3143 / 16x CATL - CB2W0_1C
- Lithium Iron-Phosphate
- Max 10kW power output
- 10 year warranty
- Communication via CAN-BUS
- 361 x 667 x 231 mm