SERVICES WE OFFER TO OUR PREMIUM PARTNERS
As a Premium Partner, you will benefit from extensive services which ensure you stay one step ahead of the market.
PV Manager 5.0 - PV System Design Solution
Simply efficient: As the most comprehensive tool on the market, the PV Manager offers all the functions you need for the planning of PV systems in a single professional software package.
Why PV Manager 5.0?
Building and roof planning
Dimensioning
Electrical planning
Tender and order
Installation
---
Premium Partner Portal with Online Shop
You can find loads of valuable material and information in our exclusive customer portal which will help support you in your daily business.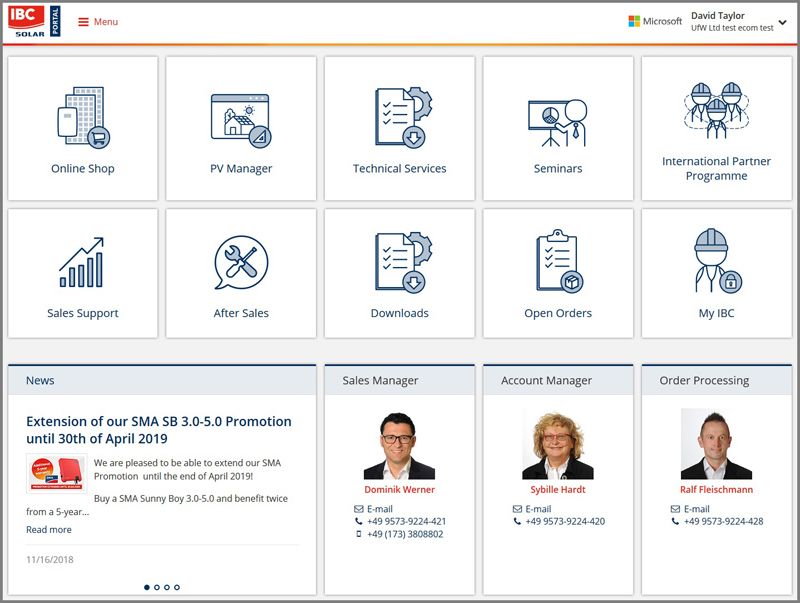 Latest products at a glance
Whether it be new promotional materials or innovative products: The International Portal always keeps you up-to-date.
The fastest way to the product
You can find all relevant information on the products, e.g. technical data and certificates, in the product shop. You have access to attractive promotional offers and can order from the entire IBC SOLAR portfolio around the clock.
Everything for successful marketing
You will be even more successful with the International Portal. Here you will find eye-catching promotional materials, tips for media relations and much more.
Comprehensive services
Our services will take a load off your shoulders, e.g. the overview of all your orders and the current delivery status. You can also conveniently use the PV Manager within the International Portal.
IBC SOLAR TECHNICAL ASSISTANCE SERVICES
IBC SOLAR technical services enables you to develop and implement residential, commercial- and utility-scale power plants that deliver superior system-level performance. We enable you to understand, to plan and to execute projects without having to hire new employees. We ensure high quality throughout all project stages.
We offer all services in different categories
1. Residential sites up to 25kW
2. Small commercial sites up to 200kW
3. Medium commercial sites 200 – 1.000kW
4. Large commercial/ Utility scale > 1.000kW (please inquire for any of the listed services)