Successful launch of IBC SOLAR South Africa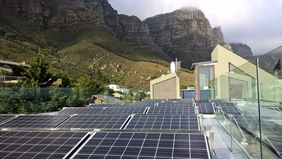 Cape Town, 09 May 2017 – IBC SOLAR AG, a global leader in photovoltaic (PV) systems and energy storage, has been active since January in the growth market of South Africa with its own regional company. Initial projects all over the country have already been successfully realised. From 16 to 18 May, IBC SOLAR South Africa (Pty) Ltd. will be showcasing its products at African Utility Week in Cape Town, one of the leading trade fairs for the African energy industry, where IBC SOLAR will exclusively launch the new SMA Sunny Boy Generation.

IBC SOLAR has been working together exclusively with its partner maxx | solar energy (Pty) Ltd. in the South African market since 2014. The two companies formed the new company IBC SOLAR South Africa (Pty) Ltd. based in Cape Town in January 2017. IBC SOLAR South Africa now offers its customers a perfect combination: over 35 years' experience of planning and realising PV systems of all sizes, together with an established partner that is familiar with the South African market and has access to a strong network of highly trained PV installers in South Africa.

The Management Board of IBC SOLAR South Africa consists of Albert Engelbrecht (IBC SOLAR AG) and Dieter Ortmann (maxx | solar energy). Locally, General Manager Daniel Haitzler is in charge of the regional company. Together with his team of four people at the Cape Town headquarters and Johannesburg, they are striving to a continuing market success.

"The South African PV market has substantial growth potential. Above all, there is a great need for self-consumption and storage systems for private households and the commercial sector," says Daniel Haitzler. "In South Africa, we are taking a solution-oriented approach. Instability of the electricity supply and rising power costs are very challenging for private persons and companies alike. That's where we come in. We analyse, advise and offer customers a solution that meets their individual needs, which might be a diesel hybrid, off-grid or storage system."

At the African Utility Week from 16 to 18 May, visitors to IBC SOLAR (Hall 1, German Pavilion, Stand B7-2) can find out more about the options for energy supply with solar power in South Africa.