Located between solar modules and the power grid, the solar inverter is the heart of a solar installation. It converts direct current from solar cells into grid-compatible alternating current. With grid-independent power, it forms an independent power supply for all AC-operated electrical appliances into which further solar inverters can then also feed. This is also the case for backup systems.

However the solar inverter does not only function as a current transformer. As the multifunctional heart of a wide variety of photovoltaic systems, the solar inverter also fulfils a wide range of other tasks: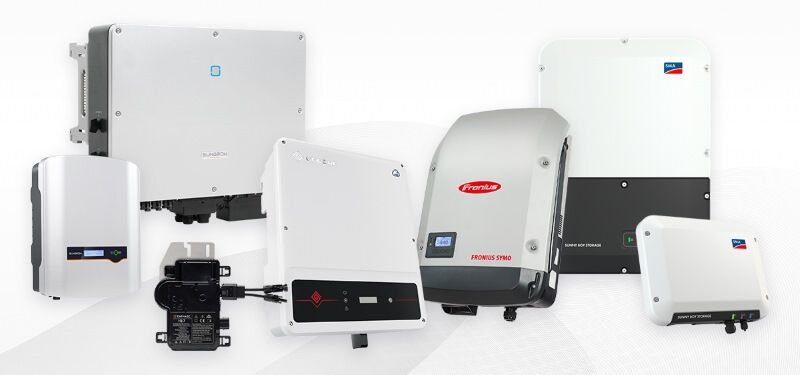 These include:
Monitoring and controlling of the entire photovoltaic system
Helps achieve maximum performance
The recording of all operating data
For grid-connected systems, automatic disconnection from the grid is possible if required
Interruption of the grid supply
Protection of the network against overloading
For mains-independent backup systems, switching from mains to emergency power within a few milliseconds in the event of a power failure - for an uninterrupted power supply.

Numerous inverters in various performance classes are available on the market. Your IBC SOLAR specialist partner knows the differences and will know which one is right for you. They will also ensure the correct installation at a suitable location.
SMA Inverters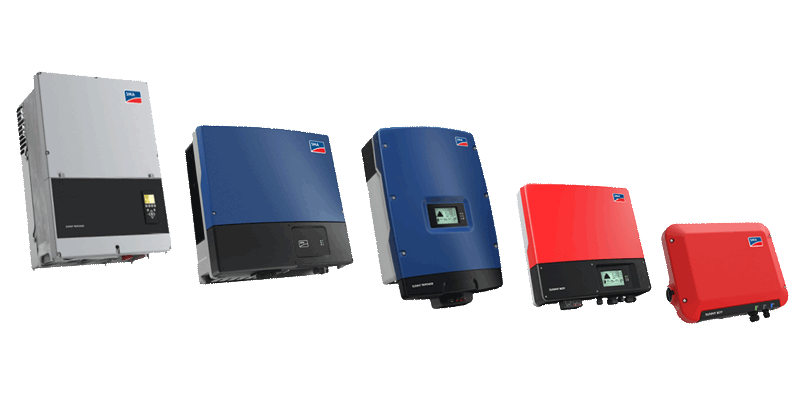 SMA offers products for small residential systems up to large industrial ones.

SMA Solar inverters are available in single-phase and three-phase version and from 3kW with 2 MPPT.

The best device for private PV plants up to 6kW is the SMA Sunny Boy. It is available with single tracker for 2,5 and 3 kW. Furthermore, the new Sunny Boy inverters are provided with Webconnect device for monitoring via Sunny Portal.

The SMA Sunny Tripower, available in different versions TL10, TL20 e TL30 is the perfect inverter for commercial/industrial PV plants. Plant-control-systems like "OptiTrack Global Peak" and "OptiCool" for the temperature are integrated.

The SMA Sunny Island battery inverters enable the integration of storage systems into the utility grid or self-sufficient off-grid systems. They assume important grid management functions and ensure a reliable energy supply worldwide as well as the optimal integration of renewables into the power supply.

Purchase SMA inverters in our online shop
Fronius Inverters
Fronius offers a comprehensive range of high-quality inverters that's efficient and reliable and form the indispensable heart of every photovoltaic system. Power categories ranging from 1.5 to 27.0 kW guarantee suitability for virtually any system size – from a family home to a large-scale system.

The Fronius Primo with power categories ranging from 3.0 to 8.2 kW perfectly complements the SnapINverter generation. This single-phase, transformerless device is the ideal inverter for private households. Its innovative SuperFlex Design provides maximum flexibility in system design, while the SnapINverter mounting system makes installation and maintenance as easy as possible. The communication package included as standard with WLAN, energy management, numerous interfaces, and much more besides, makes the Fronius Primo a communicative inverter for owner-occupiers.

With power categories ranging from 3.0 to 20.0 kW, the transformerless Fronius Symo is the three-phase inverter for every system size. Owing to the SuperFlex Design, the Fronius Symo is the perfect answer to irregularly shaped or different roof orientations. A WLAN or Ethernet internet connection as standard plus easy integration of third-party components make the Fronius Symo one of the most communicative inverters on the market. Furthermore, the meter interface permits dynamic feed-in management and a clear visualisation of consumption.
This inverter combines a battery charging system, battery inverter, hybrid inverter, controller and system monitoring solution in one device. With AC power categories ranging from 3.0 to 5.0 kW, the inverter is able to process up to 8.0 kW in order to supply household consumers with energy and to temporarily store surplus energy from a photovoltaic system in a battery storage device. Thanks to an intelligent energy flow management system, the built-in Multi Flow Technology supports simultaneous energy flows in all directions as well as AC-, DC- and AC- & DC coupling of the battery storage. The result: maximum self-consumption and optimum system profitability.

The three-phase Fronius Eco in power categories 25.0 and 27.0 kW perfectly meets all the requirements of large-scale installations. Thanks to its light weight and SnapINverter mounting system, this transformerless device can be installed quickly and easily either indoors or outdoors. This inverter series sets new standards with its IP 66 protection class. In addition, its integrated all-pole string fuse holders and optional DC fuse mean that string collection boxes are no longer required.

Purchase Fronius inverters in our online shop
Victron Inverters
The inverter / battery chargers with MPPT solar charge controllers from Victron Energy are advanced and multifunctional.

The MultiPlus-II combines the functions of the MultiPlus and the MultiGrid and comes in models ranging from 3000VA to 5000VA. It has all the features of the MultiPlus, plus an external current transformer option to implement PowerControl and PowerAssist and to optimize self-consumption with external current sensing (max. 32A). It also has all the features of the MultiGrid with built-in anti-islanding and an increasingly long list of country approvals.

Similar to the MultiPlus, the Quattro is also a combined inverter and charger. Additionally it can accept two AC inputs and automatically connect to the active source. Its many features include a true sine wave inverter, adaptive charging, hybrid PowerAssist technology plus multiple system integration features such as three or split phase operation and parallel operation. Models are 3000VA, 5000VA, 8000VA, 10000VA, 15000VA.

The EasySolar is an all-in-one solar power solution in 12/24/48 Volt Models combining an MPPT Solar Charge Controller, an inverter/charger and AC distribution in one enclosure. The product is easy to install, with minimum wiring.

The MPPT VE.Can SmartSolar chargers use the latest and fastest technology to convert energy from a solar array into energy that optimally charges a battery banks.

Purchase Victron products in our online shop
GoodWe Inverters
GoodWe is a world-leading PV inverter manufacturer with an accumulative delivery of more than two million inverters and installation of 23GW in more than 100 countries and regions. GoodWe solar inverters have been used in residential and commercial rooftops, industrial and utility scale systems and range from 0.7kW to 250kW. GoodWe has more than 2000 employees situated in 15 different countries and is regarded as the Global No.1 storage inverter by Wood Mackenzie in 2020. GoodWe has also ranked as one of the Top 10 inverter suppliers by IHS Markit and has achieved five consecutive TUV Rheinland "All Quality Matters" Awards.

Technological innovation is GoodWe's main core competence. With an in-house R&D team of approx. With more than 400 employees in two R&D centers, GoodWe can offer a comprehensive portfolio of products and solutions for residential, commercial and utility scale PV systems, ensuring that performance and quality go hand-in-hand across the entire range.


Purchase GoodWe products in our online shop